Everest Base Camp Trekking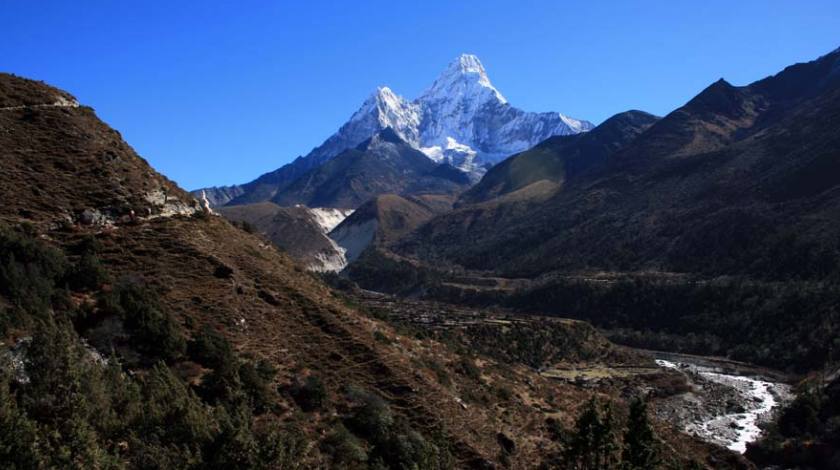 No, no! The adventures first, explanations take such a dreadful time. - Lewis Carroll
Trip Facts
Trip CodeAN- M022

Trip Length15 Days

Pricefrom US$ / person

Route DifficultyLevel D

Group SizeMin 1 to 16

Min Altitude2610m / 8563 ft.

Max Altitude5545m / 18192 ft.

Route StyleTeahouse

ModeFly In Fly Out
---
About Trip
Rewarding journey to sacnctuary of world highest mountain peaks and picturesque Sherpa villages  along the trails
---
Highlights
High elevation adventurous journey of +5000m trails
Base Camp of World Highest Everest at 5364m
Immense mountain views including of four world highest (I, IV, V, VI)
Top viewpoint of Nepal – Kala Patthar
Several old Buddhist Gompas and monasteries including Tyangboche
Excellent walk through beautiful Sherpa villages and communities
Namche Bazaar – gateway to Everest
Colossal Khumbu Glacier
---
Outline Itinerary
Day 01:Arrival in Kathmandu and transfer to Hotel
Day 02:Kathmandu Valley Sightseeing and Preparation Day for Trekking
Day 03:Morning Flight from Kathmandu to Lukla and trek to Phakding (2610m / 8563 ft.)
Day 04:Trek from Phakding to Namche Bazaar (3440m/11286 ft)
Day 05:Rest and acclimatization day at Namche Bazaar (3440m/11286 ft)
Day 06:Trek from Namchee Bazaar to Tyangboche (3870m/12697 ft)
Day 07:Trek from Tyangboche to Dingboche (4410m/14468 ft)
Day 08:Rest and Acclimatization Day at Dingboche
Day 09:Trek from Dingboche to Lobuche (4910m/16109 ft)
Day 10:Trek from Lobuche to Gorakshep to EBC (5364m / 17598 ft.) to Gorakshep (5120m/ 16798 ft)
Day 11:Sunrise Climb to Kala Patthar (5545m / 18192 ft.) and trek to Pheriche (4240m/ 13911 ft)
Day 12:Trek from Pheriche to Phortse Village (3810m / 12500 ft)
Day 13:Trek from Phortse Village to Monjo (m/11286 ft)
Day 14:Trek from Monjo to Lukla (2840m/9318 ft)
Day 15:Morning Flight from Lukla to Kathmandu and transfer to Hotel
Day 16:Final Departure | Rest Day at Kathmandu Valley | Other Travel Plan
---
Included in the Cost
Airport Transfer

Arrival Pick Up: Welcomed by our representative on arrival at Kathmandu Airport and transfer to the accommodation facility accordingly.
Departure See Off: We shall arrange your final departure towards International Airport on private vehicle hoping to see you someday in arrival section again.

Trip Accommodation

Standard Hotel in Kathmandu for 3 nights (Twin Shared Basis)
Best Suited Local Teahouse and Dorm Shelter during trekking

Trip Meals and Drinks

Breakfast, Lunch and Dinner with seasonal fruits during trekking
Breakfast in Kathmandu Valley

Trekking Crew and Staffs

Experienced and Well Trained Government License Holder Trekking Guide
Supportive Assistant Guide based on the group size
Carryin Staffs to support the luggage of trekkers. They are strong to carry for two trekkers' luggages, which is best-minimized upto 20 kg in total.
All Nepalese Crew members' salary, food, flight, accommodation and most importantly, insurance of each are already covered.

Transportation/ Flight

Private Vehicle are used for airport and trekking transfers
Roundtrip Domestic Flight (Kathmandu Lukla) with airport taxes

Permit and Paperworks'

Necessary National Park Area Permit Fee
Trekkers Information Management System (TIMS) Registration Card

Packing and Equipments

AN Seasonal Sleeping Bag and Down Jacket (please care to return after use)
Trekker's personal gears and equipments are NOT INCLUDED.

Others

Comprehensive First Aid Kit (bring your personal medication, if have any)
All applicable fees, local taxes and government taxes
Trekking Map, Trekking Certificate etc
Not Included in the Cost
Visa and Entrance Fee

You can also obtain Arrival Visa at Tribhuwan International Airport, Kathmandu.
Multiple entry visas are USD 25, USD 40 and USD 100 for 15 days, 30 days and 90 days respectively.
Entrance Fees to Cultural and Heritage Sites during sightseeing

Meals and Drinks

Lunch in Kathmandu
Any Meals than mentioned in itinerary above
Drinking Water, Soft and Hard Drinks, Tea/Coffee during trip

Personal Expenses

Phone Calls, Laundry, Battery Charging, Shopping, Hot Shower, Additional Carryin Staff Support etc

Trekking gears and equipments

Personal gears and equipments (See Trip Menu)
You can also buy both local made and original branded gears in trekking gear stores of Kathmandu

Travel Insurance

No travel insurance of any kinds is included for trekkers. You should buy yourself a travel insurance that suit your adventure activities and cover possible expenses (Our Crew are Insured).

Other Activities

Any other excursion or adventure plan besides mentioned above is not included however; they can be arranged happily upon your interest on extra cost.

Miscellaneous

Tips of Gratitude for Crew Members (Expected)
Cost arises due obstruction and delay on the programmed itinerary due weather problems, road situation. natural calamities and social & political causes (reason beyond our hands to take control)
Any other thing besides the Service Include Section
Detail Itinerary
Day 1Arrival in Kathmandu and transfer to Hotel Drive: 30-45 min | Accommodation: Hotel | Meals: D
Day 2Kathmandu Valley Sightseeing and Preparation Day for Trekking Drive: 3-4 hrs | Accommodation: Hotel | Meals: B
Day 3Morning Flight from Kathmandu to Lukla and trek to Phakding (2610m / 8563 ft.) Drive: 30min | Flight: 25min | Walk: 3- 3.5 hrs | Accommodation: Local Teahouse | Meals: B, L, D
Day 4Trek from Phakding to Namche Bazaar (3440m/11286 ft) Walk: 5.5 - 6 hrs | Accommodation: Local Teahouse | Meals: B, L, D
Day 5Rest and acclimatization day at Namche Bazaar (3440m/11286 ft) Walk: 5.5 - 6 hrs | Accommodation: Local Teahouse | Meals: B, L, D
Day 6Trek from Namchee Bazaar to Tyangboche (3870m/12697 ft) Walk: 5 – 5.5 hrs | Accommodation: Local Teahouse | Meals: B, L, D
Day 7Trek from Tyangboche to Dingboche (4410m/14468 ft) Walk: 5 – 5.5 hrs | Accommodation: Local Teahouse | Meals: B, L, D
Day 8Rest and Acclimatization Day at Dingboche Walk: 2.5 – 3 hrs | Accommodation: Local Teahouse | Meals: B, L, D
Day 9Trek from Dingboche to Lobuche (4910m/16109 ft) Walk: 4 – 4.5 hrs | Accommodation: Local Teahouse | Meals: B, L, D
Day 10Trek from Lobuche to Gorakshep to EBC (5364m / 17598 ft.) to Gorakshep (5120m/ 16798 ft) Walk: 6 – 7 hrs | Accommodation: Local Teahouse | Meals: B, L, D
Day 11Sunrise Climb to Kala Patthar (5545m / 18192 ft.) and trek to Pheriche (4240m/ 13911 ft) Walk: 6 – 6.5 hrs | Accommodation: Local Teahouse | Meals: B, L, D
Day 12Trek from Pheriche to Phortse Village (3810m / 12500 ft) Walk: 5.5 – 6 hrs | Accommodation: Hotel | Meals: B, D
Day 13Trek from Phortse Village to Monjo (m/11286 ft) Walk: 5.5 - 6 hrs | Accommodation: Local Teahouse | Meals: B, L, D
Day 14Trek from Monjo to Lukla (2840m/9318 ft) Walk: 4.5 - 5 hrs | Accommodation: Local Teahouse | Meals: B, L, D
Day 15Morning Flight from Lukla to Kathmandu and transfer to Hotel Flight: 25 min. | Drive : 30-45 min | Accommodation: Hotel | Meals: B, D
Day 16Final Departure | Rest Day at Kathmandu Valley | Other Travel Plan
Safety Concern
Your safety is our top concern while organizing outdoor and adventure plans. Our leaders and crewmembers are experience professionals who will make sure that trip is safely coursed. We truly understand the essentiality of information flow and risk management to provide the best experience.  Our trekking arrangement includes the proper clothing, supplies of equipments and gears, high altitude prevention measures and remedies to provide the care-free adventure in the Himalayas.    
Room to Customize
Standard itinerary and route plan is typically designed considering the average level of fitness of travelers and level of altitude gain on the trek (and multiple other factors) which can be modified as per the interest, time and budget plan of travelers. There is always a room for customization of the given standard itinerary, if it does not meet your way of interest and then please pass your opinion. You may want to stay in Kathmandu by yourself or maybe do sightseeing around by yourself; we will give you more information to do it by yourself if you ask us. We always like to hear what you have to say. We are always happy to assist your valuable travel holidays in your manner with the best information that suits your way of travelling. It is your travel plan; you can choose what you want to do, of course with lot of information first. Feel free to submit and share your travel ideas and we shall get back to you with more thoughts in no time.
Group Size
We, ourselves feel that the group size of maximum 16 pax is an ideal size to run the trip. However, we have also arranged the plan for large students groups, employee groups and able to organize such trip for groups upon request. All of our trekking plans are accompanied by specialized local leaders, guides, porters and assistant guides (as required) who will always ensure your safety and comfort at every part of journey.