13 Necessary Equipment for Peak Climbing in Nepal
First Publish: 03 Aug, 2018
Last Updated: 24 Sep, 2018
Climbing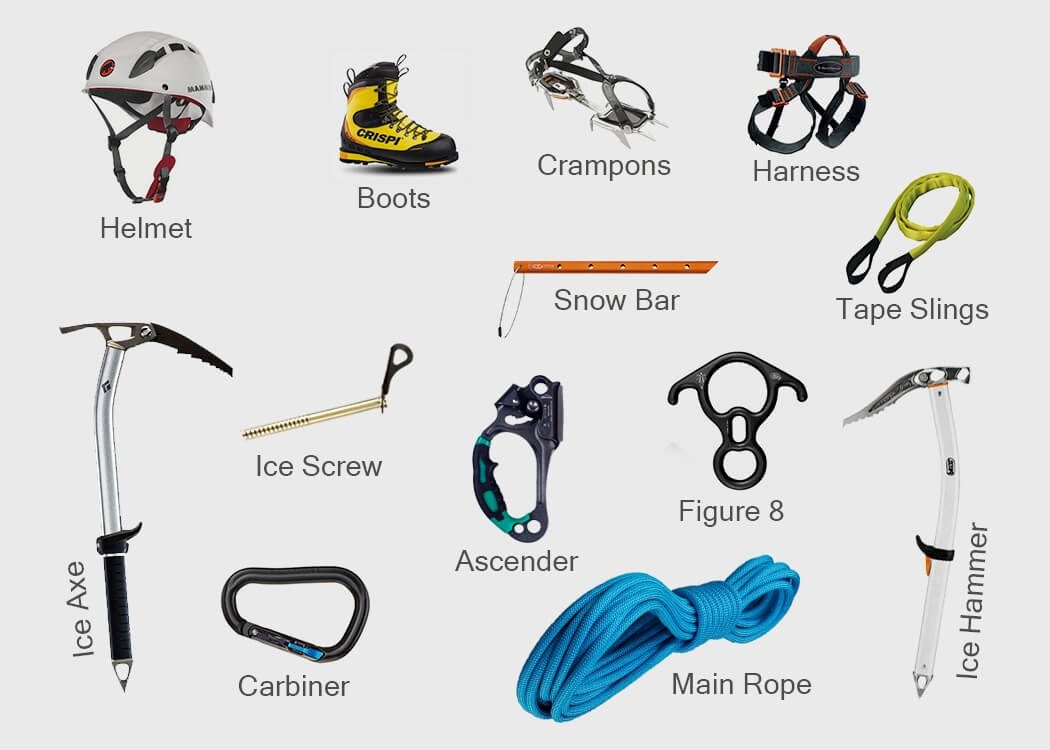 Thinking of climbing a peak in Nepal?
Good! Now you are thinking:)
"Climb if you will, but remember that courage and strength are nought without prudence, and that a momentary negligence may destroy the happiness of a lifetime. Do nothing in haste; look well to each step; and from the beginning think what may be the end."

Edward Whymper, Scrambles Amongst the Alps
There is a good need of preparation with all the courage, gears and equipments for venture like peak climbing. It is an exciting journey to test your level of endurance to catch the first light of the sun with spectacular view of the thin clouds floating amid the highest Himalayas from the summit.
There are hundreds of peaks in Nepal ranging from least 5000m/16404ft to the world highest Mount Everest at 8848m/29029ft. Many of them are still unclimbed and open for challenges. So far the government of Nepal has been able to issue permit for only handful number of peaks for climbing and expedition.
The size of the gears and equipments are based on the expedition days and group-size. Finding a right gear is just as important as anything else for successful adventure experience. Sometime it is a matter of life or death.There are varieties of items required for climbing and you should learn how to use them properly (if you don't know already). Knowledge of handing gears is a great deal in despair and you should familiarize yourself with every kit that you need and should carry along for the trip.
All is depend on the proper gear and proper attitude (and also proper altitude). We know you have an attitude but let's look at the list of equipments now. We have listed down following major gears, which is a must for any kind of climbing endeavor.
Mountaineering Boots
Good mountaineering boots are the most for climbing, especially if it involves icy/ snowy or glacier walk. So many of these climbing boots are designed to be used along with crampons and need to be protective and warm to avoid feet injuries or frostbite.
Crampons
If there is ice or snow or glacier walk on the climbing course, then crampons are the first thing to bring. Mainly used for ice climbing, these pointy boot-exterior helps to walk in icy and snowy terrains securely and very useful while crossing snow/ice fields or ascending ice-covered rocks or slopes. It is better to have a good ankle support waterproof boots and crampons with horizontal frames. Strap-on binding crampons are the most popular ones, however we advise to match the flexibility of your footwear with flexibility of crampon and choose the best one for your adventure.
Ice Axe
You all have heard about ice-axe. It is one of the most important tools for climbing and used for both ascending and descending through icy and/or snowy route. It can also be used as walking stick in the uphill and act as means of self-arrest in case of unexpected downhill slip. There are normally two types of ice-axe i.e. Basic and Technical. Basic ice-axe are for general climbing in snow/ice with primary support and self-arrest features, however Technical ice-axe has more curved shaft, more strong with sharp picks to support in steep/vertical climb and also for belaying purpose.
Harness
No good come without a good harness stripped around your body. It is the essential tool to secure the climber with a rope or anchor point. There are several models of harness designed with concern to safety; however it is essential to make sure that the sitting harness is comfortable enough without hurting any private areas.
Rope
Without rope, there is no start to climb at all. There are two major kinds of ropes i.e. static and dynamic and you need to have both of them. Dynamic ropes are elastic stretchable designed to absorb the energy of the fall and used for belaying. Whereas, static ropes are relatively stiff with very less elasticity and used mostly for rappelling, rescues and ascending.
Carabiners/Karabiners
It is the most known and important safety critical tool for climbing and for several other purposes. If there is rope, there is a carabiner. There are two major types i.e. non-locking and locking carabiners (screw-gate), and both of them are needed for your venture.
Tape Slings
Tape Slings are mostly made of nylon or dyneema and designed to use as anchors, to extend an anchor to reduce the rope drag in anchor equalization, or to climb the rope. It can be used with other piece of equipment or tied using a knot. The dyneema fibers are recommended as it lowers the amount of water absorption making it ideal for rock or ice climbing.
Figure 8 / Descender
Figure 8 is one of the important and versatile tools for climbing because of its unique ability to dissipate heat efficiently and functions as a friction brakes and helps in steady and controlled descend through the rope. It is used in conjunction with harness and locking carbiners to keep climber in safe control to descent smoothly, hence the name "Descender". It is majorly used as belaying device and for rappelling.
Ascender / Jumar
Ascenders are essential mechanical device made of metal used for direct ascending a rope or to facilitate protection with a fixed rope while climbing. In times of rescues, it can also be used as a braking component within a rope hauling system.
Helmet
Don't forget the head. Some mountaineers like to see their hair singing with the wind, but helmet is very advisable. Adventures are uncertain so protection of valuables is the most concern. Mountaineering helmets are comfortably lightweight and designed to protect against the impact from falling ice or rock, or in case of unexpected fall.
Snow Bar
Snow Bar is useful device that holds the rope in place for secured weight support of a climber or static loads. It is designed to employ the fall protection.
Ice Screw
An ice screw is good thing to pack for your expedition as it is very useful as a running belay or anchor on steep ice surfaces. It act as essential item for ice climbing or rescues, to hold the climber in the event of fall.
Ice Hammer
Ice Hammer, sounds heavy? But it's not. Ice Hammer are not the most important tool for climbing, however it has its uses. It is mostly useful for the placement and removal of snow bars, pitons, fixed anchors etc. Ice Hammer can be used as an alternative to the adze component of an ice axe.
Patience is the ability to idle your motor when you feel like stripping your gears.

Barbara Johnson
If you are wondering where to get all of these items in Kathmandu then don't you worry about it! Almost all of the above listed items of gears are available to buy or rent at the Equipment Store at Thamel, Kathmandu. We always recommend our travelers to bring their own good gears, if they have. However, you can always get assistance from us or any other local adventure company (you have chosen) to help you arrange the necessary gears and equipment for safe and smooth adventure. As personal gears and equipments are not included in any of adventure trip plans so it is essential to gather a good set of gears before you start.
Before you go, some of the popular trekking peaks for swift mountaineering experience include Island Peak, Mera Peak, Lobuche Peak, Pisang Peak, Tent Peak etc and they are best to begin your quest to the Himalayas.