Breathe in the Adventure
First Publish: 25 Aug, 2017
Last Updated: 31 Aug, 2017
Travel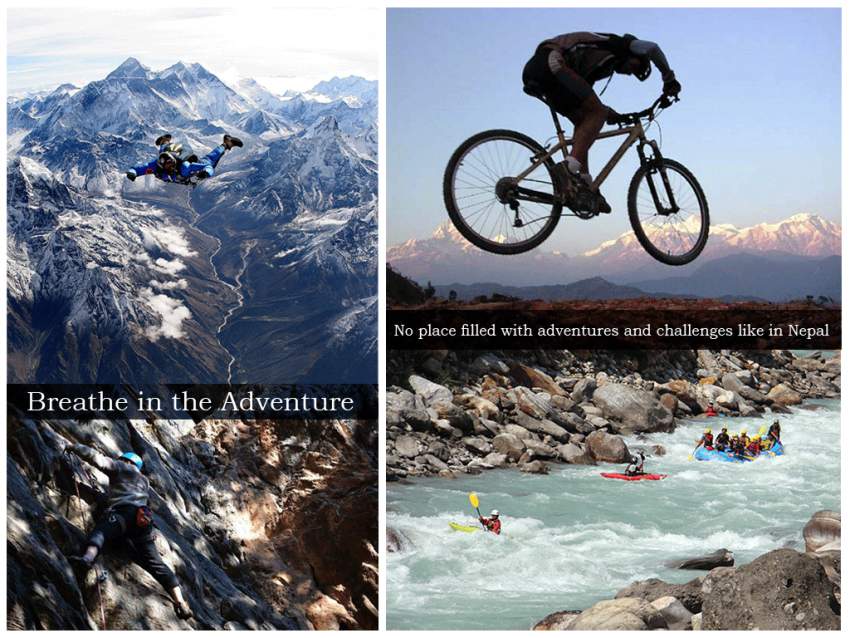 Known for its stunning mountains and unique trekking trails, Nepal is no doubt an adventurer's paradise. Travel and Lifestyle gives you a glimpse of all the adventure activities possible in Nepal.
We are all driven by a sense of pleasure in challenging nature in as many ways as possible. For the wild mind, it is all about overcoming the fear and seeking comfort in the gear pumping adventure activities. And there is no place filled with adventures and challenges like in Nepal.
Thanks to the country's diverse geography, one can say that Nepal is the 'it' place for almost every kind of outdoor adventure activity. You can get all of those adrenaline kicks, big or small, as you participate in a wide variety of adventure sports. Trekking, Bungee Jumping, taking an ultra flight, paragliding and white water rafting are some of the popular ones, but with lesser known adventures like heli-sking and skydiving — Nepal will keep your adrenaline rushing.
DASHING OFF
The thrill of running outdoors through beautiful Himalayan landscapes, Nepal is an unforgettable trail running destination. Slowly becoming the new frontier for trail runners, Nepal also hosts some of the most amazing trail running events around the world. "The Everest Marathon", "Annapurna 100" and "Manaslu Trail Race" are high altitude trail running events which happen every year where hundreds of runners participate.
"Nepal is surrounded by hills and mountains, which makes it perfect for trail running. Kathmandu Valley boasts an ideal place for beginners to practice, whereas there are plenty of high altitude races happening every year in Nepal for professionals." — Rishi Chudal, trail runner who has participated in Manaslu Trail Race.
For the novice runners, Trail Running Nepal organizes trail runs every week around the Kathmandu Valley and in the outskirts as well.
MECCA FOR MOUNTAIN BIKING
Tough climbs and exhilarating down-hills, pleasures of mountain biking can be experienced throughout the country. There are virtually millions of tracks — dirt roads and trails in Nepal to meet every biker's wildest dream.
Being one of the fastest growing sports in Nepal, there are trails inside and close to Kathmandu Valley, whereas other trails are rugged and wild with no easy way out.
The Kathmandu Valley trail is suitable for full or half day trips offering you flexible itinerary and riding styles. Some of the most brilliant trails however, lie in the outskirts of Valley — Kakani, Pharping, Nagarkot and Dhulikhel.
For those who fancy far-off destinations, the pristine Annapurna Circuit or Mustang is highly recommended. The Annapurna Circuit covers one of the most dangerous and beautiful landscapes of Nepal. The Mustang trail was brought ot the world stage by Red Bull in 'Where the Trail Ends' and is easily accessible and has a number of great trails. The Upper Mustang on the other hand, is a remote and restricted area but offers a plethora of hidden trails.
SKY IS THE LIMIT
There is nothing like achievement of scaling a steep cliff-face with nothing but your bate hands along with few ropes and harness of course. Growing popular among the youth over the past decade this is a highly demanding activity which requires a lot of physical strength.
Due to the stunning, natural rock faces in spectacular settings, Nepal provides a wide range of climbing sites for beginners, intermediate and professional climbers. There are many places for rock climbing in and around the Capital but there are about five main rock climbing areas in the country. Nagarjun forest, Hattiban and Nagarkot are often crowded with beginners who want to get a hands-on experience. Enthusiasts who want to try something more challenging, can head to Bimal Nagar, 20 minutes drive from Bandipur or tread on high hills and mountains to Namchee Bazaar in the Sagarmatha zone.
GO WITH THE FLOW
Grab a paddle and hit the waves for an exciting water experience. Nepal is no shortage of kayaking adventurers and is home to some of the most varied and scenic white water body in the world. The shorter journeys are easy enough to suit beginners and the longer expeditions are a true classic.
For beginners the Lower Seti River, Trishuli River and the lower section of Bhote Koshi are ideal sports and for the expert kayakers support upper Bhote Khosi River, Karnali River, Sunkoshi River and Kaligandaki River presents an exhilarating white water journey.
HIGH FLYER — SKYDIVING AND HELI-SKIING
When it comes to adrenaline-pumping activities, few things beat launching yourself out of an airplane or a helicopter and plummeting through the air on a breathtaking freefall.
"New introduction to the adventure activity scene in Nepal, skydiving and heli-skiing, both offer you fascinating adventure,"
"The amazing height and spread of the snow clad mountains of Nepal is the perfect destination to fuel your spirits."
The fact that makes skydiving and heli-skiing a better experience in Nepal than anywhere else is because of the height it takes you to — Mt Everest. Popular as the Everest skydive, it is one of the most extreme adventures in the country. It allows you to jump from a height of 29,500 ft higher than the Everest summit to float back to the Base Camp. For the beginner soul, skydiving in Pokhara from a height of about 11,000 -13,000 ft allows you to get the best view of the Annapurna and Machhapuchere range.
A hotspot for hardcore heli-skiing enthusiasts, one of the best way to challenge your limits is by skiing down treacherous slopes. With Mt Everest, Annapurna and Dhaulagiri; the starting heights are as high as 16,000 ft and an elevation change of 6000 ft, offering you one of the most enthralling experiences of your life.
First Printed in Travel and Lifestyle