Celebrate Festival of Light — Tihar
First Publish: 16 Oct, 2017
Last Updated: 17 Oct, 2017
Festivals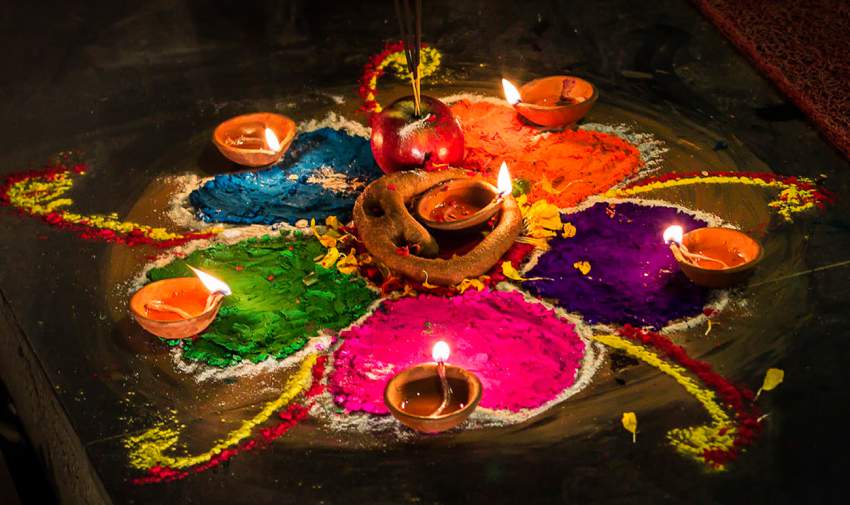 Colorful Rangoli and Burning Diya on the entrance of the house to welcome Goddess Laxmi
Tihar, popularly known as the Deepawali or Diwali is the second most celebrated festival in Nepal. It is commonly known as Yamapanchak or Swanti among native Newari people of Kathmandu Valley. It is a five-day long festival celebrated across the country which primarily signifies the celestial bond between human and animals together with the reverence of deities.
The whole setting of the festival is done with vivid and colorful decoration of lights and colors in-house and streets. The typical Rangoli — a beautiful artistic pattern made with colored rice, flour, flower and sand with a burning Diyo on top — can be seen on the entrance of the houses representing a welcome sign for the Hindu deities, especially Goddess Laxmi. And kids and adults can be seen busy playing with firecrackers.
The two major festivals of Nepalese are Dashain and Tihar which falls from late September to early November with the fresh arrival of the autumn season. This festival is widely celebrated in Nepal, India, Mauritius, Malaysia and several other countries where Hindus are found.
Tihar is a festival where four different animals — crow, dog, cow and ox — are fed and worshipped on first four days and the last day is dedicated to the Sister and Brother where sister puts a Tika on the forehead of brother and wishes a happy, healthy and prosperous life. The day is known as Bhai Tika.
First Day: Kaag Tihar
Kaag is a Nepalese word for Crow and they are worshipped on the first day of the festival. Crow is regarded as the messenger of God Yama who carries death message. And this day signifies the deeper attachment between human and birds. Crow cawing is believed as a bad omen among people. Crow Day is celebrated by offering them sweets and dishes and worshiped to avert the grief and death in families. As per the legend, Yama's twin sister Yamuna send crow as the first emissary to meet him.
Second Day: Kukur Tihar
Kukur is a Nepalese word for Dog and worshipped on the second day for their eminent relationship of friendship and loyalty with humans. People offer them red tilak on their forehead, garland of flowers around the neck and delicious food to eat. As per the legend, Yamuna sent Dog as the second emissary (after crow) to meet her brother Yama.
Third Day: Gai Tihar/Laxmi Puja
Laxmi is one among the three supreme goddesses in Hinduism —Saraswati and Parvati being other two. Gai is a Nepalese word for Cow and regarded as the manifestation of Goddess Laxmi, hence sacred to Hindus signifying the abundant wealth and prosperity.
On this day, the cow is worshipped by putting a red tika on the forehead and garlanding them with flowers and also fed them. It is the special day to welcome Goddess Laxmi — Goddess of Wealth and Fortune, and she will only come to the house which is clean and decorated with colors and lights.
Colorful Rangoli decorated with flowers and diyo lamps are kept in the entrance of the house and the footsteps designs of Laxmi are drawn until the place where Laxmi Puja is held (in the room). Candles and diyo lamps can be found throughout the staircase to welcome the goddess.
Later in the evening, kids and adults are seen in the front door of the house, singing and dancing — called "Deusi" and "Bhailo". The family members offer them food and money.
As per the legend, Lord Rama returned to the Ayodhya Kingdom after spending 14 years in exile with his consort Sita and brother Laxman (based on epic Ramayana).
Fourth Day: Gobardhan Pooja
On the fourth day, Ox is worshipped. People collect the cow's dung and make it as a symbol to worship the Ox. And the evening is loud with singing and dancing ceremony of "Deusi" continuing throughout night. It is celebrated in the honor of King Bali return to earth (based on epic Ramayana). As per the legend, Yamuna sent Ox as the fourth emissary (after cow) to meet her brother Yama.
Fifth Day: Bhai Tika
No matter how far, it is the most important day for any brother to visit his sister to receive Bhai Tika. "Bhai" is a Nepalese word for little brother (Dai for elder brother). Every brother's responsibility is to protect his sister from any kinds of harm during her life.
Brother brings a gift for his beloved sister while sister put a colorful tika on his forehead, garland him with flowers, prepares delicious meals for him and pray for his prosperity and longevity. This day represents the immense bond and love between brother and sister.
As per the Hindu legend, after killing demon Narkasura by Lord Krishna, he visited his sister Subhadra who offer him a garland of flowers, delicious meals and red tilak in the forehead.
As per another legend, the God of Death (Yamaraj) was visited by his sister Yamuna after sending her four emissaries (crow, dog, cow and ox). She put a red tika and fed him delicious meals.
Special Dish of Tihar
A special dish called "Sel Roti" is prepared in this festival. It is traditionally shaped by hand into the form of a bagel from rice flour dough with the crispy brown shell. Sel Roti is an essential item to prepare before the Laxmi Puja and offered to the people who come to play Deusi or Bhailo in the evening. It is also an important dish for Bhai Tika.
Tihar among Newari People
Tihar holds significant importance to the Newar Community of Kathmandu Valley as it starts the New Year of Newars — known as Nepal Sambat which started on 20th October 879 A.D. Newari people observe New Year by performing special ceremony and ritual to purify and empower the soul for a coming year. The day is observed as Mha Puja which is worshipping oneself (body and soul) instead of deities and gods.
Tihar is one of the cherished 5 days festival of Nepal and it is so decorated with lights to receive the blessing of wealth and prosperity by Goddess Laxmi and also to do everything to make Yama, God of Death, happy to avert griefs and sorrows in the families.
In the year 2017, Tihar is Nepal starts on 17th of October and ends on 21st of October, being Crow Day and Bhai Tika respectively.