Ghode Jatra - A Horse Racing Day
First Publish: 27 Mar, 2017
Last Updated: 21 Jun, 2017
Festivals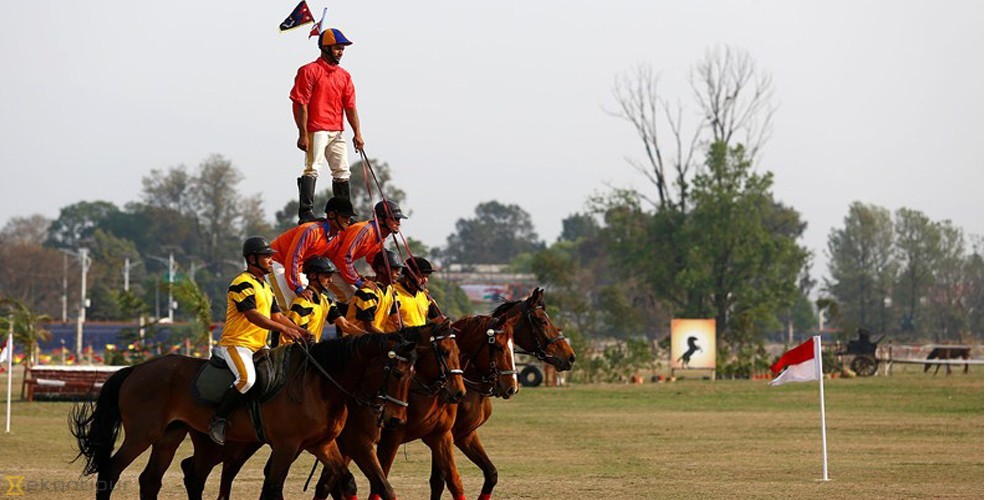 Nepal is full of festivals where animals are greeted, nurtured, feed, worshiped and even sacrificed based on several traditional beliefs and cultural practice of people.
Also popular as "Horse Racing Day" — Ghode Jatra was celebrated today — 27 March 2017 (as per English Calendar) or Chaitra 14, 2073 (as per Nepalese Calendar) in Kathmandu valley.
Ghode Jatra is one of the major festivals celebrated with high enthusiasm every year by organizing horse stunts and race, parade and acrobatic shows by Nepalese Army and Nepal Police in capital's biggest open government ground of "Tundikhel". Back in old days when Nepal was divided into small kingdoms, then people celebrate Ghode Jatra separately in three kingdoms of Kathmandu — Patan, Bhaktapur and Kathmandu.
As per the historic legend, once Kathmandu was possessed by the evil spirits of the demon called "Tundi" who resides over the open field of Tundikhel and has brought terrors and fears into the lives of the people. Riding horses in this field represent the celebration of the victory over the demon "Tundi" and also believed that the galloping of horses keeps evil spirits down under the ground. It is also said that people celebrate the death of demon Tundi, by riding the horses in Tundikhel as they carry the spirit of freedom and victory.
In Patan area, the celebration of Ghode Jatra is rather exciting as the rituals include local beer intoxication for both horse and men and people enjoy the show to see when the drunken horse will throw away the drunken men out from their back.
Newars — who are also believed to be original inhabitants of Kathmandu Valley are known to celebrate this very festival with high enthusiasm. In Newari community, Ghode Jatra falls onto the second day of their own Newari festival called Pahachare which means "inviting guests" in their own Newari language. They clean their house, perform rituals and worship God and Goddess including some animal sacrifice on the first day and later in the second and third day invite married daughters and sister for the grand feast.
Ghode Jatra in Nepal falls at the mid or end of the last month of Nepalese calendar and also symbolizes the arrival of the spring season and Nepali New Year which falls in mid-April.