Indra Jatra — A Celebration tribute to the King of Gods
First Publish: 05 Sep, 2017
Last Updated: 06 Sep, 2017
Festivals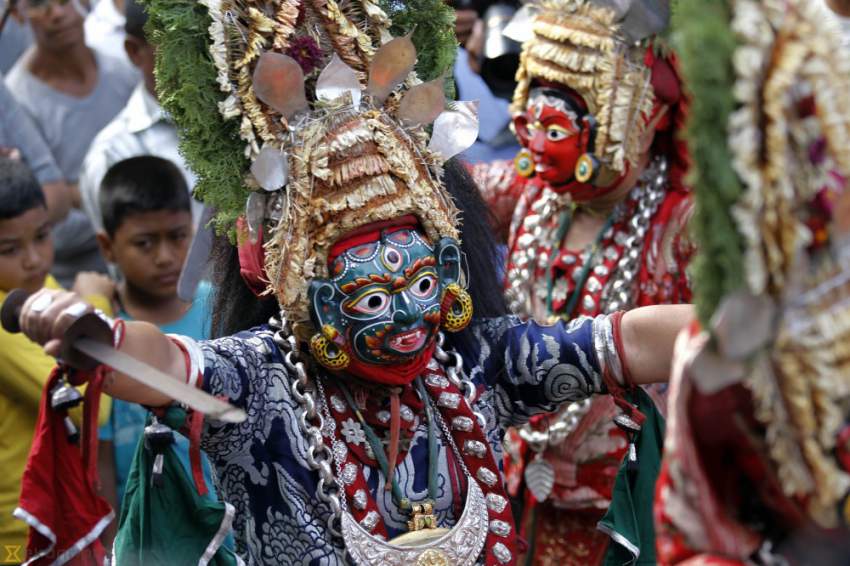 Dance performers wearing Lakhe costume and masks in the streets of Kathmadu Valley
Indra Jatra is one of the biggest festival of Kathmandu Valley dedicated to Hindu Deity of Rain and King of Heaven — God Indra. It is believed to be celebrated since tenth century and started by King Gurukmadeva to commemorate the founding of Kathmandu Valley.
Nepal is full of festivals and celebrations as she is home to more than 125 ethnic groups who follows their own different culture, customs, lifestyle and language, and properly blended under the syncretism of Hinduism and Buddhism mythologies.
Newars are one of the ethnic groups who were originally from Kathmandu and popularly known as group with many festivals, which are often seen celebrated in the streets of Kathmandu Valley.
This exciting festival lasts for eight days with various rituals and ceremonies, animal sacrifices, singing, playing traditional music, masked deities–demon dancing and long chariot procession of The Living Goddess of Nepal — Kumari.
Indra Jatra festival starts with an erection of wooden pine pole in front of Old Royal Palace of Hanuman Dhoka at Kathmandu Durbar Square to appease God Indra. It continues with the traditional dance with costume and masks for next two days.
On the third day of the festival, The Living Goddess Kumari is taken out from Kumari House in a procession in a chariot along with two other small chariots of Lord Ganesh and Lord Bhairav.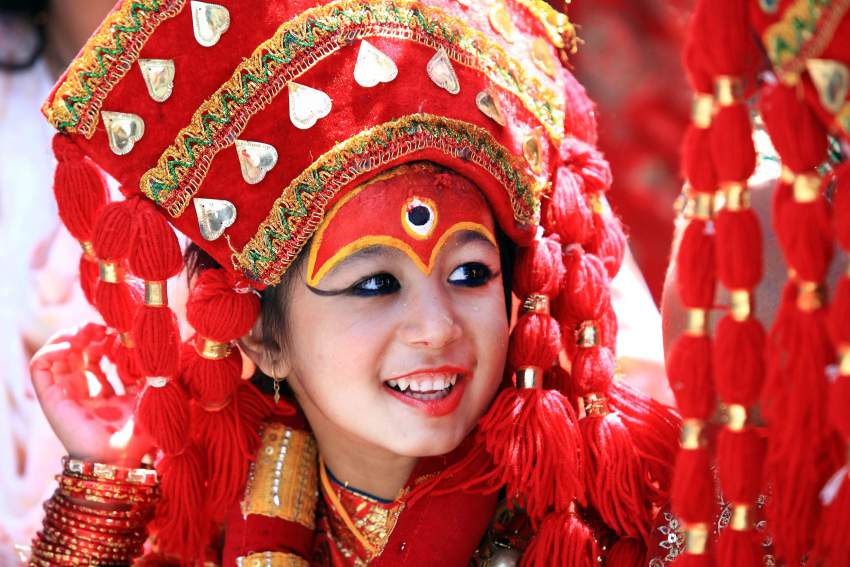 Kumari is the The Living Goddess of Nepal and regarded as the manifestation of divine energy of Goddess Durga
For next three days, the chariots are taken across the Kathmandu valley with people singing, dancing and playing traditional music. Finally, on the eighth day of the festival, previously established wooden pine pole is lowered with religious ceremonies followed by animal sacrifice.
The chariot procession of Living Goddess into the street of Kathmandu Valley is also known as Kumari Jatra, started in 1756 A.D by then Kathmandu King Jaya Prakash Malla.
As per the one legend, this festival signifies the victory of deities over the demons while rescuing the son of God Indra.
Another legend suggests that the festival came into existence when God Indra, disguised as human, came to Kathmandu Valley to collect the Parijat flower (night jasmine), which he could not find in heaven for his mother to complete her ritual ceremony.
He was caught by locals while plucking the flower and taken into the custody until his mother became worried about his disappearance and start searching for him. And later she discovers her son in imprisoned in Kathmandu Valley.
After knowing the true identity of God Indra, local people release him with respect and his mother appreciates his son's freedom by promising to provide dew drops in the winter for the better crop cultivation.
Hence, the day is marked as Indra Puja, and celebrated as gratefulness of God Indra for rain and good crops. Indra Jatra Festival is observed in many parts of Nepal and Sikkim. Although, it is celebrated differently than Newars of Kathmandu Valley, the festival marks special day for the God of Rain followed by costume dance and worship.