Celebration of Sagarmatha Day
First Publish: 29 May, 2017
Last Updated: 29 May, 2017
Nepal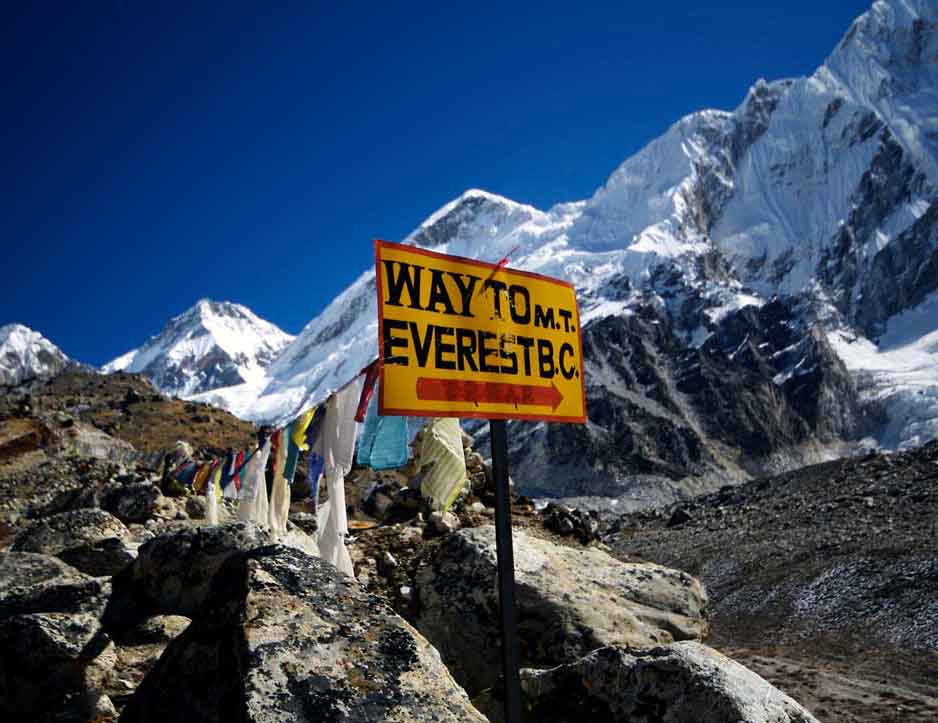 Navigation at Gorakshep (5120m) towards Everest Base Camp (5364m)
29 May is celebrated as the International Sagarmatha Day in Nepal and around the world. This day marks the anniversary of the successful attempt of human on the top of the world.
Sagarmatha is the local Nepalese name for the world highest peak —Mt. Everest (8848m) which lies at the north-east area of Nepal.
Sagarmatha is composed of two words — 'Sagar' means Sky and 'Matha' means forehead, which gives the meaning of "Forehead in the Sky" for Sagarmatha.
At 11:30 am on Friday, 29 May 1953 — the highest point of the earth was successfully climbed by two legendary mountaineer — Tenzing Norgay Sherpa (Nepal) and Edmund Hillary (New Zealand) on a ninth British expedition since the first attempt of 1921.
The greatest danger in life is not to take the adventure.

George Leigh Mallory (Mountaineer )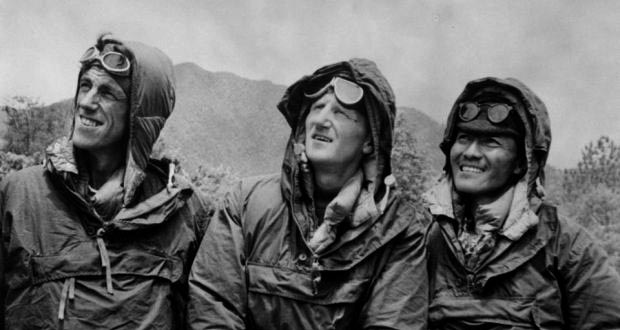 Edmund Hillary, John Hunt and Tenzing Norgay Sherpa during 1953 Everest Expedition (from left to right)
First Successful Attempt to Everest
Earlier, it was thought that Everest Expedition was only possible from Tibet side. Several expeditions were attempted from a period of early 1920's to early '50 until Tibet was closed for foreigners and around the same time (early '50s) Nepal opened her borders for outside world which increased the movement of mountaineers to find a way to climb the Everest from Nepal side. While British team explores the South East Ridge and found it possible to ascent from Nepal side, a Swiss expedition team booked their first chance to scale Everest in 1952 but failed to summit.
1953 British Expedition was led by John Hunt, a British Army Colonel accompanied with other 10 British, 2 New Zealanders, more than 350 Nepalese porters and 20 Sherpa guides with more than 4500 kg of supplies. At that time, the leader of Sherpa, Tenzing Norgay was going to attempt to scale Everest for the sixth time and considered the best-known mountaineer as he has already reached the highest of 8600m on Everest Expedition led by Swiss in 1952.
On the two different pairs selected by John Hunt for the summit, the first pair of Charles Evans and Tom Bourdillion reached until 8750m (approx 100m lower than Summit) and returned back. And two days later, the second pair of Tenzing Norgay Sherpa and Edmund Hillary approached to the summit and made it to the top on morning 11:50 am local time on May 29 marking the first successful attempt to the world tallest mountain rock peak. The first sets of the flag to stand in the top of Everest were of Nepal, Union Jack of the United Kingdom and United Nation.
Mount Everest was named after Sir George Everest — Surveyor General of India who produced the detailed map of Indian sub-continent.