Who are Gurkhas? What is Kukri?
First Publish: 02 Apr, 2017
Last Updated: 21 Jun, 2017
Nepal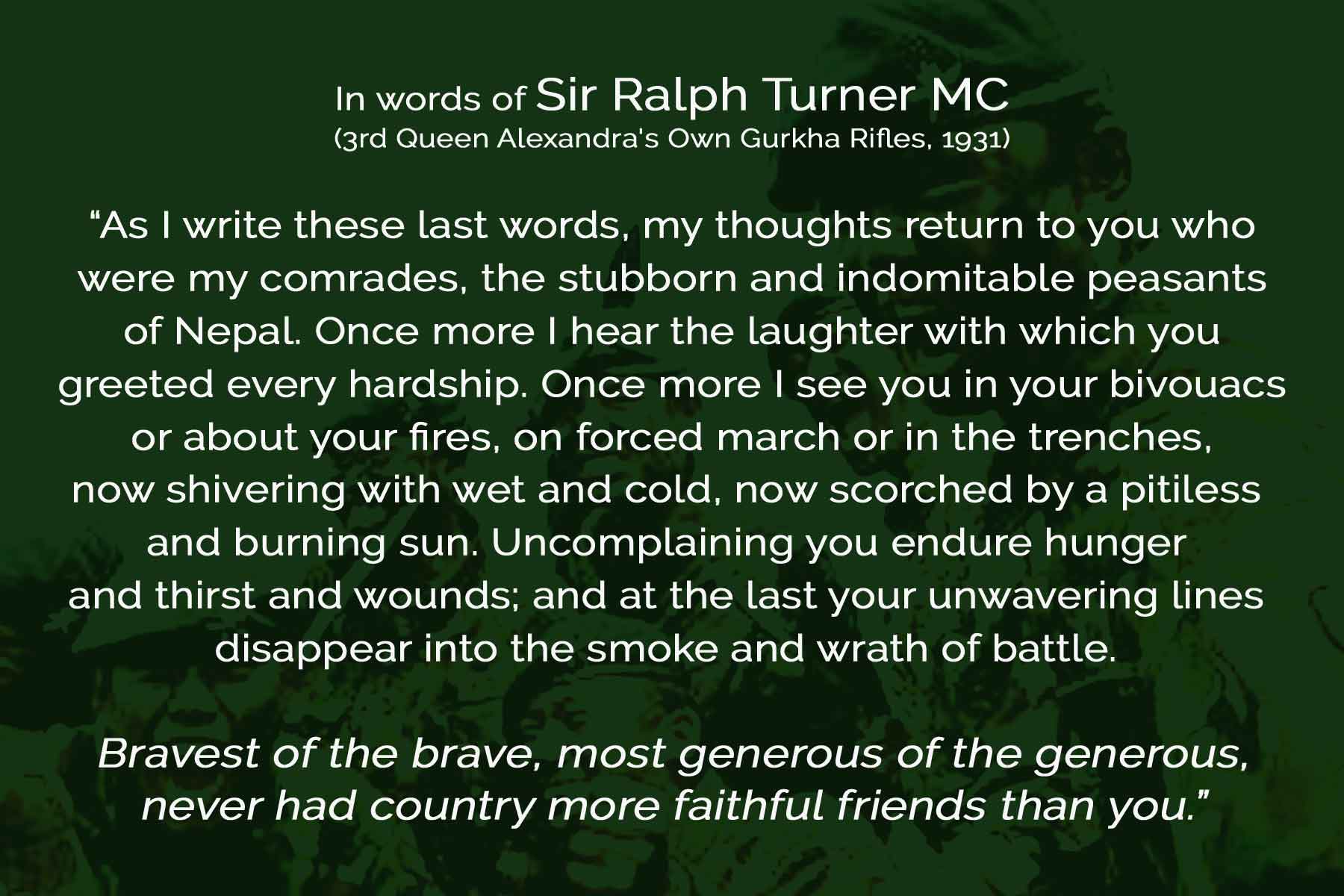 "Better to die than to be a coward." — Gurkha Motto
The spirit of Gurkha slogan summarizes the attitude and strength of the fearless Nepalese fighters who are named "Gurkha" and serves as special combat soldier to British crown based on a relationship established between British (East India Company) and Nepal during the 18th century.
"Jai Maha Kali, Ayo Gorkhali" is the war-cry for Gurkhas which means "Hail to Goddess Kali, The Gorkhas are here". As Nepalese people practice religious syncretism of Hinduism, Shamanism and Buddhism themselves — Goddess Kali represents the power and bravery in all culture, also signifying the ultimate punishment of the evil to restore peace and love.
"Defeat is not a word in their vocabulary. "

— John Conlin, Former Gurkha Commander
The history of Gurkhas dates back to 18th century when British was ruling over India and attempting to take possession of neighbor state Nepal with more than 20,000 soldiers and 60 cannons and yet surprisingly got so impressed with bravery of less 10,000 Nepalese soldiers with their limited battle supplies — ended up with signing "Sugauli Treaty" and opening doors for Nepalese soldiers to serve under British Army after two years of war also known as Anglo-Nepal War (1814-1816).
During that period, Nepalese soldier were expanding own territory of Nepal after the foundation of Modern Kingdom of Nepal laid by Great King Prithvi Narayan Shah — also the King of Gorkha — who realized the British movement and then started unifying all small principalities and kingdoms from 1743 and later anglicize the name Gorkha into "Gurkhas" for troops of Nepalese Gorkha armies.
Several veteran commanders and warriors of Anglo-Nepal war became National Heroes of Nepal as they were held responsible for the rapid expansion of Nepal territory and then annexed areas of Sirmur including Kumaon, Dehradun and Garhwal in the west and Sikkim were later lost by Nepal (later became part of India after independence) during the Sugauli Treaty signed with British East India Company in 1816.
The first draft of Sugauli Treaty was established in December 1815, which was later ratified in March 1816 and again superseded in 1923 by "Perpetual peace and Friendship Treaty". In March 2015, Nepal and UK Government commemorated the 200 years of relationship since the first Gurkha battalion were recruited.
In Nepalese society, those who are recruited as British or Indian Army — they are popularly known as term "Lahure" and well respected among the locals attracting thousands of youths to train themselves every year to go through tough and challenging Gurkha recruitment process and become everyone's beloved "Lahure".
Kukri — Gurkha Weapon of Choice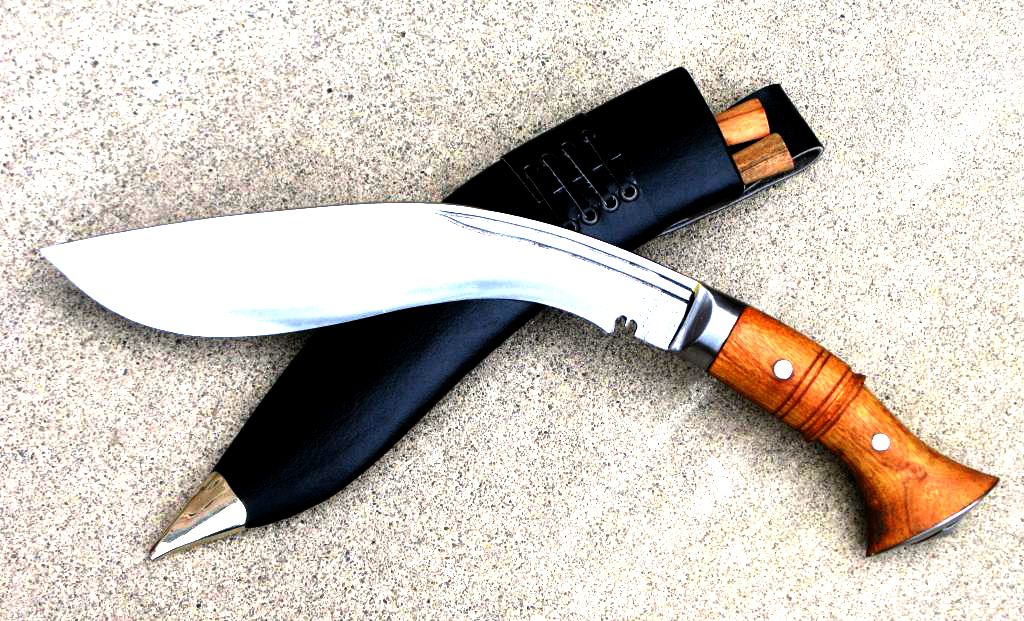 Kukri", pronounced as "Khukuri" by Nepalese, also termed as "Gurkha Knife" or "Gurkha Blade" is 18 inch long sharp inward curved signatory weapon choice of Gurkha soldiers – is well respected around the globe for its unique style, features and fearful effectiveness — also stands as symbol of Gurkha soldier.
As per the legend, No Kukri must be drawn unless it tastes blood before it sheathes which is not very practical as Nepalese use it frequently. However, this mythical statement of Kukri has been demonstrated often in the battlefield as Gurkha is known to use this very weapon to chop the helmet heavy.
Kukri is the common household weapon used for everyday tasks by all Nepalese people and kids (especially boys) learn to use it from very early age and gain skills of unbeatable chopping methods with occasional practice of animal killing as the traditional practice of worshipping deities during feast and festivals. Kukri is a must on many occasions and rituals including marriage ceremonies holding significant spiritual and traditional values among Nepalese people.
Seven Trivia about Gurkhas
The first regiment of Gurkhas was named "Nasiri Regiment" — formed in 1816 which later renamed into 1st King George Own Gurkha Rifles
The first troops of Nepalese Gurkha soldier — 1 Gurkha Rifles — served under British Army on Jat War (1826) at Bharatpur.
There were 11 Gurkha Regiments (GR) by the time of First World War which was later deployed into 4 British GR and 7 Indian GR
More than 2,00,000 Gurkha soldier has fought in World War I and II
Rifleman Kulbir Thapa was the first native Gurkha soldier from Gurkha Regiment to receive the highest honor of Victoria Cross (VC)
Kukri is the famed weapon carried by all Gurkha Regiments and Nepalese Army
Most of the officers in Gurkha Regiment have to learn the Nepali language
"If a man says he is not afraid of dying, he is either lying or is a Gurkha."

— Sam Manekshaw, Field Marshal, Indian Chief of Army (1969 - 73)
Victoria Cross (VC) is the highest military decoration bestowed upon members of British Commonwealth armed force for the valor performance in the face of the enemy. A total of 26 VC is awarded to British Gurkha Regiment and 13 of them are received by native Gurkhas (Nepalese).Likewise in India, Param Vir Chakra is the highest military decoration (considered as worthy as VC) and Indian Gurkha Regiment has been awarded 3 Param Vir Chakras, 33 Maha Vir Chakras and 84 Vir Chakras.